CNIM wins this year's ISE Trophy!
CNIM wins this year's ISE Trophy!
Nicolas Dmitrieff, Chairman of the Management Board of the CNIM Group, was presented with this Trophy on Wednesday 17 October by Thibault de Jaegher, Editor in Chief of l'Usine Nouvelle, at the Assises de l'Industrie (annual industry conference).
The Assises de l'Industrie are organized by l'Usine Nouvelle, and as part of this event the magazine recognizes enterprises for their dynamism and their innovation capacity.Three trophies are awarded:Enterprise of the Year, ISE* of the Year, and Gem of the Year.
The enterprises are selected by the whole of the editorial staff at l'Usine Nouvelle based on nominations by journalists. These nominations are then discussed, defended or discarded before being put to the vote by the entire editorial staff.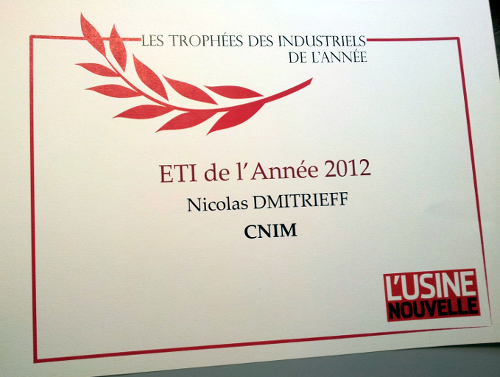 You can find the article online and also on page 52 of the 18 to 24 October 2012 edition of l'Usine Nouvelle which features the Trophy awarded to CNIM on the cover!
*ISE = Intermediate size enterprise (ISE) is a category of enterprise between small and medium-sized enterprises (SME) and large enterprises (LE).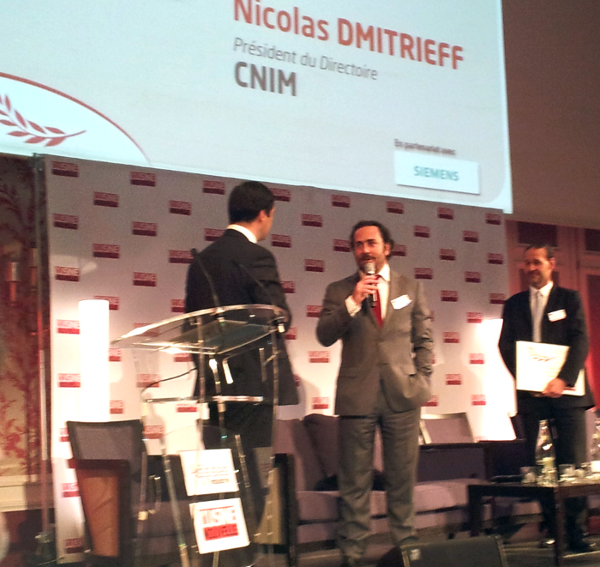 ← Left to right :
Thibault de Jaegher, Editor in Chief of l'Usine Nouvelle, Nicolas Dmitrieff, Chairman of the Management Board of the CNIM Group, Julien Elmaleh, Deputy CEO of Infopro