Development of a Concentrated Solar Power prototype on the Lagoubran site - la Seyne-sur-Mer
Development of a Concentrated Solar Power prototype on the Lagoubran site - la Seyne-sur-Mer
Through the development of its new solar activity, the CNIM Group has decided the construction of a prototype of Concentrated Solar Power (CSP) module on its site Lagoubran located in La Seyne sur Mer.
The studies design are currently being finalized, the construction is being planned in early 2010. The prototype should be ready for operation in May 2010.
This project has been driven by the Solar Energy Division and based on all available expertise within the group.
The prototype, which is unique in France, is based on the single -called technology of "Fresnel mirrors" and will be constructed at 1 scale (overall dimensions 50 meters by 20 meters, 720m ² of mirrors, producing saturated steam at 100bars). This kind of unit, proposed by CNIM Group in a near future, will equip the "solar fields" of CSP power plants. The targeted market for these CSP power plants should be located primarily in the Northern Africa and Middle East areas.
The development of the prototype has been realized on equity. It embodies the strong will of the Group for developing this new activity.
3D modeling of the prototype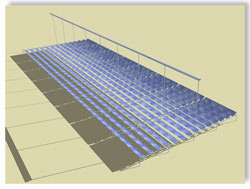 View of the prototype on the Lagoubran site