SIMIC and CNIM sign contract to manufacture Radial Plates for ITER reactor


Press release
December 5, 2012
SIMIC and CNIM sign contract to manufacture
Radial Plates for ITER reactor
Fusion for Energy (F4E), the European Union organization managing Europe's contribution to ITER, has just awarded the Franco-Italian consortium SIMIC – CNIM the contract to manufacture 70 radial plates for ITER. The contract, expected to run for 4 years and for a value in the range of 160 million EUR, is among the biggest industrial contributions of Europe's share to the ITER toroidal field magnet system.
These radial plates are « D » shaped mechanical structures of measure 13.8 m x 8.7 m x 110 mm. They are made from 316LN stainless steel and weigh either 5.4 T or 9.8 T, depending on the type of plate. They will form the 'backbone' of the 18 field magnets needed to keep the plasma confined within the ITER vacuum chamber. The radial plates have on each side spiral round-shaped grooves which are closed by cover plates.
The properties of the materials used, the quality of the welding, the size of the components, the dimensional tolerances and the sustained pace of the manufacturing operations represent a real challenge from the technological and managerial point of view.
CNIM and SIMIC pooling together their respective experience, skills and unique industrial capabilities have allowed to submit a top quality offer, coupled with a very strong risk mitigation.
SIMIC will operate from its two facilities, one in Camerana (CN) and a new one in Marghera (Venice). Marghera facility is a very large workshop having direct access to the sea and a shipping capacity till over 2000 tonnes. Both shops are equipped with high precision and high capacity machines.
CNIM will operate from its industrial and technological site in La Seyne-sur-Mer, which specializes in the design and production of large-scale and high-precision mechanical and electromechanical systems that have to be capable of withstanding great stresses, and benefits from its proximity to the sea.
In order to fulfill the contract, both companies will have to install new exceptionally large high precision portal machines that will be necessary to complete the project within the strict machining tolerances and limited time requirements.
For CNIM, the contract represents the outcome of over 4 years' work and investment. The processes used for the mass production of radial plates were developed by CNIM, firstly through an internal R&D program and then through a specific F4E contract, between 2009 and September 2012. These efforts resulted in the production of the prototype that has just been delivered to F4E on ASG La Spezia site.
"This is a very important day for CNIM's teams, whose technical skills are being rewarded. The confidence that F4E has shown in us will encourage us to persevere with our strategy, namely to continue investing in the search for new technology and strengthening our industrial model by mastering the entire value chain, from design to manufacture," explained Nicolas Dmitrieff, Chairman of the Board of CNIM.
For SIMIC, the contract represents the successful prosecution of a story started in 2004, with the manufacturing of the first prototypes for the ITER project, going through the manufacturing of the first Radial Plate prototype and building up in time all the necessary technical and managerial skills that have opened the way to the complete serial production of the Radial Plates. A long and intensive R&D program, continuous investments in facilities, new technological solutions and a great team work are at the base of this excellent result.
"This is a really important event for SIMIC. The great efforts done in years of work have today been rewarded. This challenging project will be faced with full dedication and great enthusiasm from all our teams that are honored to contribute to such an important project. Another milestone has been achieved and this contract represents for our Company the continuation of a strategy oriented to provide high technology works for high technology projects. In this, we see our future". Giuseppe Ginola, CEO of SIMIC.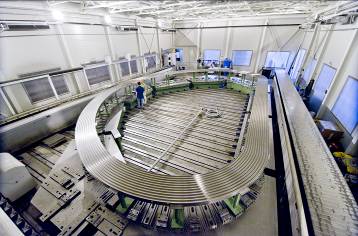 SIMIC's prototype radial plate, in its industrial plant at Marghera (Venice)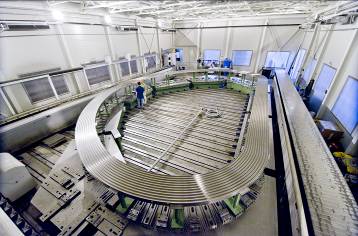 CNIM's prototype radial plate, in its industrial plant at La Seyne-sur-Mer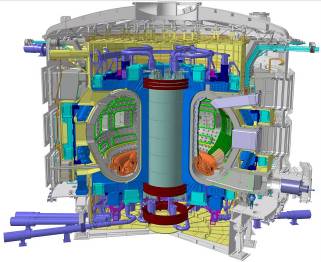 Credit © ITER Organization, http://www.iter.org/
About SIMIC: www.simic.it
SIMIC is an Italian company, based on a stable family shareholding and experienced in the engineering, manufacturing, inspection and installation of large high pressure vessels, reactors, cryostats and vacuum vessels, large machined mechanical components with very strict tolerances. SIMIC is experienced in various machining and welding technologies and very specialized in Narrow Gap TIG welding.
SIMIC Spa has about 200 employees and a revenue of about 100 million Euro.
About the CNIM Group: www.cnim.com
The CNIM Group designs, develops and produces turnkey industrial solutions with high technological content, and offers expertise, services and operating solutions in the fields of Environment, Energy, Defense, Nuclear power and Industry.
CNIM is based on a stable family shareholding, guaranteeing its development. CNIM has 2,660 employees in 14 countries and generated sales of €665 million in 2011. 58.5% of sales are from exports. CNIM is listed on the Eurolist of Euronext Paris – Compartment B.
About Fusion For Energy (F4E): www.fusionforenergy.europa.eu
Fusion for Energy (F4E) is the European Union's organisation for Europe's contribution to ITER.
One of the main tasks of F4E is to work together with European industry, SMEs and research organisations to develop and provide a wide range of high technology components together with engineering, maintenance and support services for the ITER project.
F4E supports fusion R&D initiatives through the Broader Approach Agreement signed with Japan and prepares for the construction of demonstration fusion reactors (DEMO).
F4E was created by a decision of the Council of the European Union as an independent legal entity and was established in April 2007 for a period of 35 years. Its offices are in Barcelona, Spain.
The opinions expressed are those of the contracting party and do not represent the official position of Fusion for Energy.
About ITER: www.iter.org
ITER is a scientific experiment on a vast scale that sets out to demonstrate the scientific and technical feasibility of fusion energy, thereby opening up the way for its industrial and commercial use. Designed to produce 500 MW of fusion energy from an input of 50 MW, ITER will be the first fusion device capable of generating power efficiently. The challenge is to use fusion energy to meet the constantly growing needs for power from the world population and to conserve energy resources.
Press officers:
CNIM

Isabelle Grangé

+ 33 (0)1 44 31 11 48 / + 33 (0)6 43 54 32 41 

 

SIMIC

Claudio Berruti

+ 39 0174906611 / + 39 0174906603