8 December 2017
Energy and Environment
Club ADEME International celebrates its 20th anniversary in Paris
Club ADEME International was founded in 1997 on the initiative of ADEME (French environment and energy management agency) with the backing of the French Ministries of Ecology, Industry and Foreign Trade. The club now brings together 120 French SMIs and ISEs (intermediate-sized enterprises) along with innovative eco-businesses operating in the worldwide sustainable development market. The business activities of companies in the club are focused on technical and service offerings responding to environmental and climate-related challenges. Members include LAB, SUNCNIM and BERTIN , a subsidiary of the CNIM Group.
The ceremony marking the club's anniversary was opened by ADEME Chairman Bruno Léchevin on November 21st. A talk was given by Bertrand Piccard, the explorer who flew round the world in the Orbiter balloon and in the Solar Impulse solar-powered aircraft. He is now Chairman of Alliance Mondiale des Technologies Efficientes (world alliance for efficient technologies) which aims to provide political decision-makers with "1,000 cost-effective solutions to protect the environment" at the COP24 summit to be held in Katowice in 2018.
The CNIM Group was in the spotlight with the awarding of a special trophy for its LAB subsidiary, as a long-standing member of the club. Accepting this award, Christophe Cord'homme, Development Director representing the Group's Environment sector, drew attention to the success achieved by LAB and the CNIM Group in export markets and in the environmental field with 60% of its annual revenue coming from exports averaging more than €400 million over the last seven years. He highlighted several notable examples such as the building of flue gas and condensation treatment systems at new renewable heat production plants using waste and biomass in Copenhagen, Denmark, and waste-to-energy conversion plants in Great Britain, Turin in Italy and Baku in Azerbaijan. Long live the Club!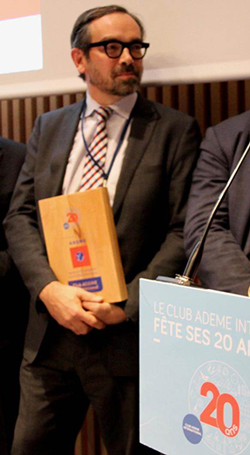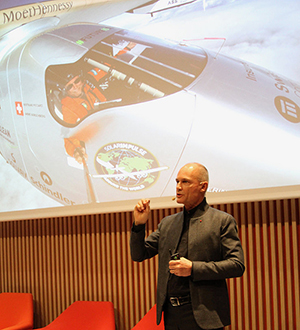 Photos © Mathieu CALLES - ADEME