19 June 2018
Nuclear industry and Big Science
Meet our experts at WNE 2018
The third edition of the World Nuclear Exhibition (WNE) will be held at Paris-Nord Villepinte from June 26th to 28th, 2018.
Join CNIM & Bertin stand D125, Hall 7
WNE is a major event for the global nuclear energy community. CNIM and its subsidiary Bertin Technologies are leading players in the fields of nuclear equipment, high-safety handling and instrumentation ensuring the complete protection of nuclear power plants.
At this exhibition, they will be unveiling their offerings of "high-performance solutions for the nuclear industry".

Based on its long experience of major nuclear projects and its cutting-edge industrial capabilities, CNIM's offering reflects its ability to innovate and adapt to the most difficult environments. Its design of secure handling systems and the large-scale projects it carries out for the nuclear power sector comply with the industry's strictest nuclear requirements.
Focused on stepping up the prevention of risks of very different types, Bertin Technologies proposes a comprehensive offering for the complete protection of nuclear installations.
In addition to ionizing radiation measuring equipment previously supplied under the Saphymo brand, Bertin also provides anti-intruder solutions for the physical surveillance of sites and cybersecurity solutions to forestall threats and ensure the secure exchange of sensitive information.
Our teams will present their expertise during Workshops and Expertise on our booth. Come meet them !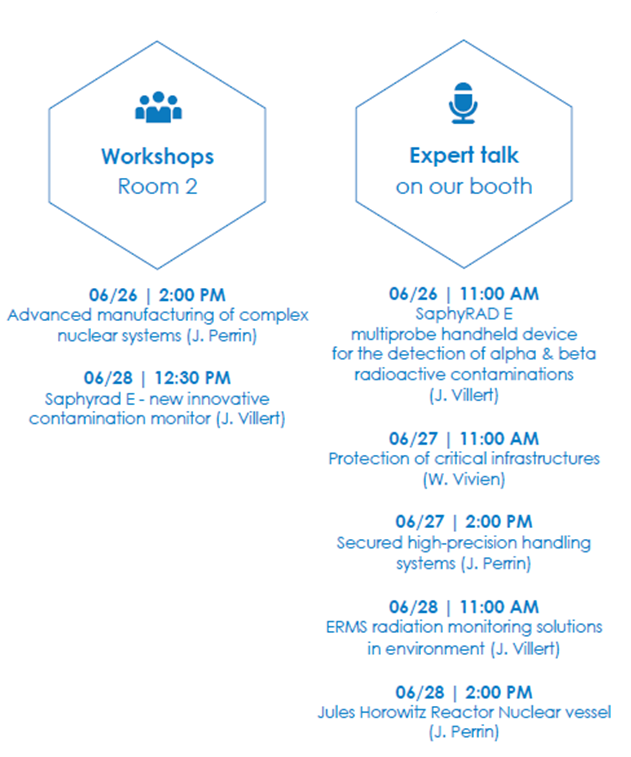 Parc des Expositions de Paris-Nord Villepinte, France
4 Avenue des Nations
93420 Villepinte