Royal inauguration at the Shrewsbury Energy-from-Waste plant
Mid-January, HRH The Princess Royal, officially opened the Battlefield Energy Recovery Facility in Shrewsbury, Shropshire, in the United Kingdom. The plant, constructed by CNIM for Veolia UK on behalf of its client, Shropshire Council was built in partnership with the construction company Clugston and delivered in May 2015. Its flue-gas treatment is a VapoLAB®.
Ninety thousand tonnes of non-recyclable household waste from across the county are processed per year, which represents 45% of the municipal waste produced in the county. It generates up to 8MW of low carbon energy - enough to power 10,000 homes via the National Grid.
Energy from waste along with the strategy instigated by the County to expand recycling will considerably reduce landfilling. Ten years ago, 65% of waste was landfilled against 5% in the near future.
CNIM is very active in the UK where it has already delivered turnkey waste-to-energy plant such as Selchp, Chineham, Marchwood, Portsmouth, Sheffield, Jersey, Lincolnshire, Staffordshire, Oxfordshire, Suffolk, Cardiff, Leeds, Wilton, South London Beddington and the recent Kemsley and Parc Adfer contracts for Wheelabrator.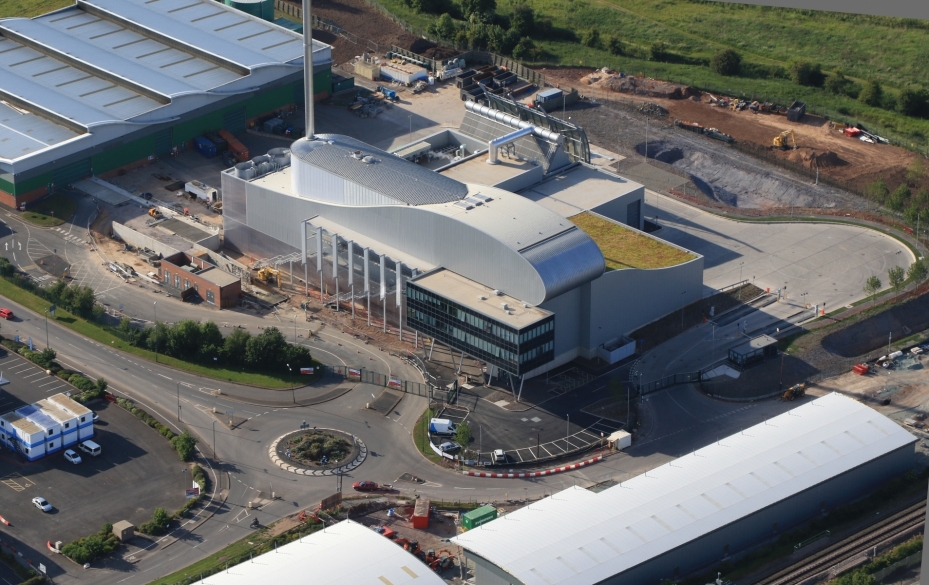 ​Aerial view of the Shrewsbury Energy Recovery facility in the UK.
(c) Veolia UK