CNIM will present is bridging systems at the MILENG'Industry Day in Ingolstadt – Germany 5th December
Industry Day provides the unique platform where military subject matter experts from NATO bodies and countries have the chance to meet companies and enterprises, to share experience and knowledge in order to improve capabilities, products and services within the Military Engineering fields of expertise.
In this context, CNIM will present its bridging systems : the Motorized Floating Bridge "PFM", solution dedicated to continuous or discontinuous crossing of wet gaps and the Modular Assault Bridge "PTA" dedicated to high speed crossing for MLC 80 vehicles.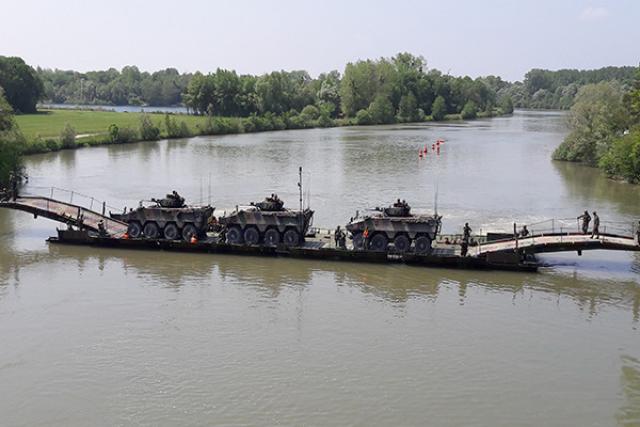 PFM : la solution tactique
Le PFM est la solution tactique privilégiée de plusieurs Forces Terrestres notamment pour sa grande maniabilité et son déploiement facile et rapide. Qu'il soit déployé en configuration pont ou en configuration ferry "roll-on roll-off ", le PFM facilite le passage de véhicules militaires chenillés ou à roues.
Construit à partir de sections motorisées, le PFM est le résultat d'une conception solide nécessitant une maintenance minimale, il peut être déployé en très peu de temps et avec un minimum d'homme : 30 min et 33 personnes pour 100 m de long.
Plus d'informations sur le PFM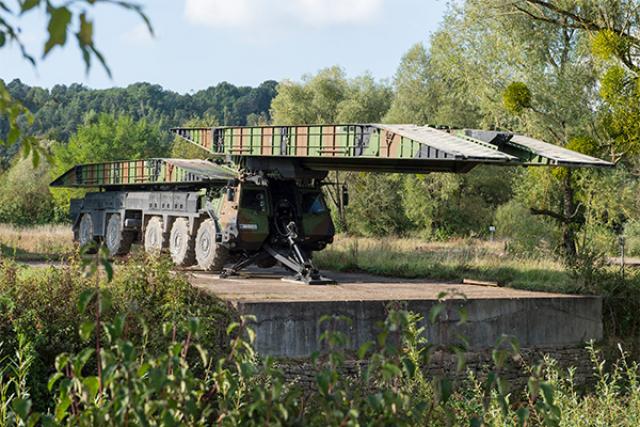 PTA : système de franchissement à hautes performances
Le Pont d'Assaut Modulaire (ou PTA - système de Pose de Travure Avancée) est une solution de franchissement de brèches sèches pour les véhicules militaires ou civils les plus lourds.
Il est en service dans l'armée de terre française depuis 2009 sous le nom de SPRAT (Système de Pose Rapide de Travure).
Face à la brèche, le PTA peut déployer très rapidement avec un minimum de personnel, deux ponts courts de 14 mètres ou un pont de 26 mètres.
Le déploiement horizontal garantit la discrétion de l'opération qui s'effectue en 10 minutes seulement avec 2 opérateurs pour le pont long.
Plus d'informations sur le PTA